1963 Chevrolet Corvette Coupe Apparel and Accessories by Legend Lines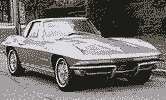 In 1963, Corvette introduced its all new Corvette Coupé and Convertible models called the Sting Rays (C2). The new design by Larry Shinoda under the direction chief stylist Bill Mitchell, was an instantaneous success with its hideaway headlights and aerodynamic lines. The 1963 coupe model, better known as the "Split Window", is the only corvette with a split rear window, a boat-tail taper that was common of sporting roadster of the 1930s, a Bugatti Atlantique and Bertone BAT inspired split rear-window. This styling was replaced in 1964 with a single piece because of drivers complaining about visibility problems. This was the very first time Corvette was available as a hardtop coupe model as well as the traditional convertible.
Showing items 1-11 of 11.