1966 Ford Mustang Base Apparel and Accessories by Legend Lines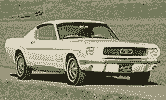 For 1966, styling changes were few, and little was needed as sales were still. Changes were made to the grille which had a floating Mustang emblem in the center. On the rear fender was new trim, with three chrome steps within the simulated scoop. To comply with regulations, fsafety features were added including seat belts, emergency flashers, windshield washers, electric wipers, and a padded instrument panel. 
The 289 cubic-inch V8, depending on configuration, produced between 200 and 275 horsepower. Body styles included a fastback coupe, hardtop coupe, and a convertible. The most popular was the hardtop coupe which accounted for 499,751 sales. It had a base price of $2,415. 72,119 examples of the convertible were built and 35,698 of the fastback coupe. Standard equipment included a three-speed manual transmission, rocker panel moldings, full wheel covers, front bucket seats, Sports-type steering wheel, five dial instrument cluster, and pleated vinyl upholstery. GT package includes front disc brakes, heavy-duty suspension, fog lamps, dual exhaust through the rear valance and a quick response steering box.