1967 Chevrolet Corvette 427 Convertible Apparel and Accessories by Legend Lines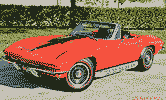 Last but not least, the 1967 Corvette Sting Ray was the last Corvette of the C2's generation. Refinements were made and Chevrolet delivered the best and ultimate Corvette of that era. By removing cheesy trims, the Sting Ray was refined to the limit and became possibly the best Corvette ever. Some of the changes incorporated in the '67 model were the use of four red taillights (first time Corvette's would have all red taillights) and its shark-like gills. The 427 version, was as close to a pure racing car as Chevy had ever offered in regular production.
Showing items 1-11 of 11.