Acura Apparel and Accessories by Legend Lines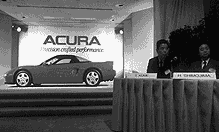 March 1986, marketing luxury, performance and high-performance vehicles. Acura holds the distinction of being the first Japanese automotive luxury brand and was among the best-selling luxury marques in the US. In 1990, Acura introduced the NSX, an acronym for "New Sports eXperimental", was builded as the first Japanese car capable of competing with Ferrari and Porsche and therefore entering the Legend.
Showing items 1-14 of 14.