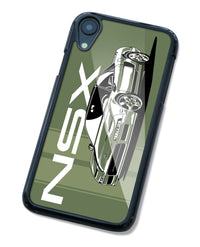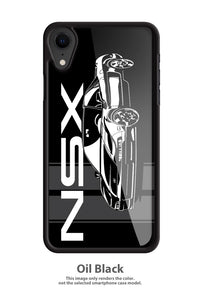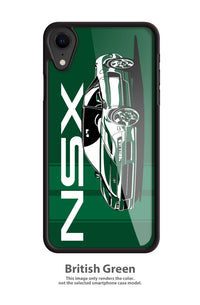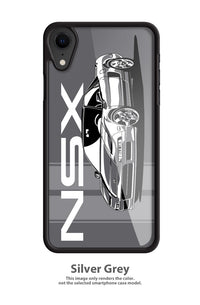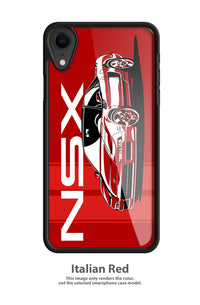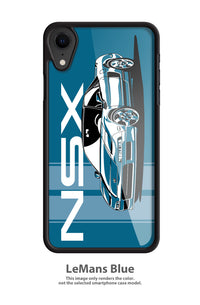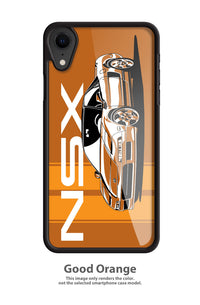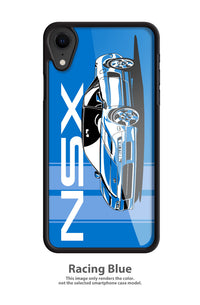 Acura NSX Emblem 3/4 Front Smartphone Case - Racing Stripes
Product Code:
ACU_NSX_34FT_EMBLEM_PHONE_STRP_BRIT
Vintage Acura / Honda NSX Emblem Cell Phone Case for Smartphone
First introduced for the 1991 model year, the NSX was a hand-built, exotic, mid-engine sports car that would establish entirely new levels of prestige, performance, refinement, drivability and reliability. Technological achievements included an optional Formula One-inspired Sequential SportShift' automatic transmission with a unique steering column-mounted electronic shifter; a drive-by-wire throttle system and standard variable, electric power-assisted steering. Production was slow, but for good reason. Each vehicle was hand assembled by a team of technicians, with an average of about 20 examples being produced per day. From the beginning the NSX has been involved in racing and captured the Manufacturer's and Driver's Championship in the International Motor Sports Association (IMSA) GTP Lights series. This accomplishment was repeated in 1992 and 1993. In 1997 an NSX captured the SCCA World Challenge Championship.
A beautiful and detailed design of the Vintage Acura / Honda NSX emblem, a Legendary Japanese Automobile, is printed on the aluminum back of the case. Harmonious, accurate and elegant, the design reveals your interest and passion for this iconic and most influential vehicle of the 20th century. It contrasts magnificently with any chosen colors of the smartphone's case . Refine and stylish, it is a perfect for showing your passion for a true Legend that lives forever: the Vintage Acura / Honda NSX Emblem Cell Phone Case for Apple iPhone and Samsung Galaxy Smartphones!
Available in:
Silver Grey • British Green • LeMans Blue • Italian Red • Military Green • Good Orange • Oil Black • Racing Blue
for:
Apple iPhone 4 • 4s • 5 • 5s • 5SE • 6 • 6s • 6 Plus • 6s Plus • 7 • 7 Plus • 8 • SE • 8 Plus • X • XS • XS Max • XR • 11 • 11 Pro • 11 Pro Max • 12 Mini • 12 • 12 Pro • 12 Pro Max • 13 Mini • 13 • 13 Pro • 13 Pro Max • 13 Mini • 14 • 14 Plus • 14 Pro • 14 Pro Max • 15 • 15 Plus • 15 Pro • 15 Pro Max
Samsung Galaxy S4 • S5 • S6 • S7 • S8 • S8+ • S9 • S9+ • S10 • S10e • S10+ • S20 • S20+ • S20 Ultra • S20 Lite • S20 FE • S21 • S21+ • S21 Ultra • S21 FE • S22 • S22+ • S22 Ultra • S23 • S23+ • S23 Ultra
The cover / case is made of Flexible Rubber or Hard Plastic (for the oldest models) and a Printed Aluminum Insert.
The image is permanently infused into the aluminum that will not crack, fade, chip, or peel (we do not use stickers or decals).
Easy access to all buttons and features of your phone, plug your charger cable, and headset without removing the case.
The Smartphone is not included. You will receive 1 (one) Smartphone case / cover / skin only.
This Smartphone Case is brand new with tag. It is in stock, packed in bubble bag and ready to ship.
This product was designed, printed & packed in the USA.

Acura Official Licensed Product. Designed, manufactured and distributed by or for Venice Enterprises, LLC. Acura, the "A" logo, Acura vehicles and their trade dress, and all associated vehicles emblems, logos, marks and names are trademarks and intellectual property of Honda Motor Co., Ltd., used under license from American Honda Motor Co.,Inc. All Rights Reserved.