Alfa Romeo Spider Veloce Series 2 1970 - 1982 Apparel and Accessories by Legend Lines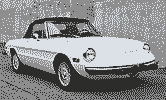 In 1970 the original's distinctive elongated round tail changed to a more conventional cut-off tail, called the "Kamm tail" to improve the luggage space.. Numerous other small changes took place such as a slightly different grille, new door handles, a more raked windscreen. The Spider remained in production for almost three decades with only minor aesthetic and mechanical changes.
Showing items 1-10 of 10.