Alfa Romeo Spider Veloce Series 3 1983 - 1989 Apparel and Accessories by Legend Lines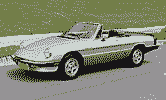 The Series 3 Spider was previewed in North America for the 1982 model year. The Spider underwent a major styling revamp in 1983, which saw the introduction of black rubber front and rear bumpers, and a small soft rubber spoiler was added to the trunk lid. The change altered the exterior appearance of the car considerably and was not universally praised by enthusiasts.
Showing items 1-10 of 10.