Alfa Romeo Spider Veloce Series 4 1990 - 1993 Apparel and Accessories by Legend Lines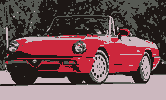 In 1990 the Alfa Spider received its final freshening. The interior was updated, but the most important changes were made to the body. Alfa Romeo fitted these Spiders with well-integrated front and rear bumpers, revised outer rocker panels, and a new tail that eschewed the 1980s-style spoiler and light clusters for a smoother look with full-width taillights inspired by the Alfa 164. Pininfarina, which built Alfa Romeo's Spiders in addition to designing them, produced its last examples of the model in calendar year 1993. For the 1994 model year, 190 Alfa Romeo Spider Commemorative Editions were imported into the U.S. to mark the very end of the series.
Showing items 1-10 of 10.