Austin Healey Sprite MKI Apparel and Accessories by Legend Lines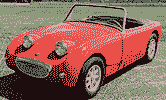 The Sprite Roadster was introduced in 1958. It was a very Long and had a cheerful design. It soon received the nickname 'Bugeye' Sprite in the US and 'Frogeye' in Britain due to its protruding headlamps atop of the hood. The Sprite was popular because of its size, sporty, and very economical and easy to maintain and had superb handling on the roads and tracks.
Showing items 1-10 of 10.