Austin Healey Sprite MKII & MKIII Apparel and Accessories by Legend Lines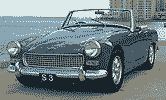 Austin-Healey introduced an updated version of the Sprite in 1961, with headlights in a more traditional position, an exterior trunk lid at the rear, and front disc brakes. The Sprite Mark III was produced from 1964 through 1966. The Mark III is also known as the Mark II MG Midget. There were little changes to this version in comparison to the prior versions.
Showing items 1-10 of 10.