Citroen Traction Avant 11B Apparel and Accessories by Legend Lines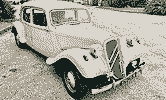 Making it a habit to be at the forefront of the newest technological inventions, Citroën introduced in 1934 a totally new revolutionary model: the Citroën Traction Avant or more commonly called "Traction". The Traction Avant pioneered front-wheel drive, along with four-wheeel independent suspensions and the use of a crash resistant monocoque body, and the car stood out at least as much by its much lower profile and stance – made possible by the absence of a separate chassis distinguishing it visually from its contemporaries. In September 1939 France declared war on Germany, and in June 1940 the German Army invaded and occupied France. During the war many of the cars were reregistered with "WH..." (Wehrmacht Heer/Army command) license plates, having been requisitioned by the German Army. During those dark years, black Traction Avants driven by flying squads of Gestapo agents terrorized the population. Traction Avants were also favoured by the Resistance, and as occupation gave way to Liberation they turned up all over France with FFI inscribed proudly on their doors.
Showing items 1-10 of 10.