Citroen Type H HY Van Apparel and Accessories by Legend Lines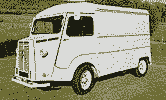 The Citroën H Van, Type H, H-Type or HY was a panel van light truck) produced by Citroen between 1947 and 1981. It was developed as a simple front wheel driven van after WW2. Like the 1934 traction Avant, the H had a unitary body with no separate frame, front independent suspension and of course front-wheel drive. For a commercial van, this combination provided unique benefits – a flat floor very close to the ground, and 6 ft (180 cm) standing height, with a side loading door. The distinctive corrugated bodywork used throughout the period of production was inspired by German Junker aircrafts, as Henry Ford also adopted this construction for the Ford Tri-Motor passenger aircraft. The ribs added strength without adding weight, and required only simple, low-cost press tools. The flat body panels were braced on the inside by 'top hat' box sections, at right angles to the ribs. When used by the French police, it was called "panier à salade" ("salad basket"). A total of 473,289 were produced in 34 years in factories in France and Belgium.
Showing items 1-11 of 11.