Fiat 600 2 Doors Apparel and Accessories by Legend Lines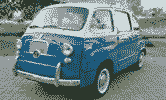 The Fiat 600 or Seicento in Italian, was a city car produced by Fiat from 1955 to 1969. Measuring only 10 ft 7 in (3.22 m) long, it was the first rear-engined Fiat and cost the equivalent of about US$7000 in today's money. The Fiat 600 mirrored the layout of the Volkswagen Beetle and Renault 4CV of its era, with the ability to carry 4 people and luggage plus a cruising speed of no less than 85 km/h. About 2,000,000. 600s were produced in various countries, as Spain, Argentina, Yugoslavia, Uruguay where it soon became an icon of the Italian Lifestyle.
Showing items 1-14 of 14.