Fiat 600 Multipla Apparel and Accessories by Legend Lines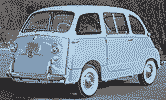 The original Fiat 600 Multipla was based on the Fiat 600's drivetrain, that sat six people in a footprint just 19.7 in (50 cm) longer than the original Mini Cooper. The driver's compartment was moved forward over the front axle, effectively eliminating the boot but giving the body a very van-like "one-box" look. Behind the front seat the vehicle could be arranged with a flat floor area or a choice of one or two bench seats. Until the 1970s, it was widely used as a taxi in many parts of Italy. The Multipla's performance was not its selling force, with a top speed of about 55 mph (91.9 km/h) and 0-50 mph (80 km/h) in 43.0 seconds, but was good on fuel with a consumption of 32.0 mpg.
Showing items 1-14 of 14.