Fiat 600 Multipla Polizia Apparel and Accessories by Legend Lines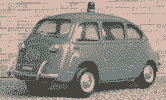 FIAT 600 Multipla Italian Polizia (police) 1956 - 1969
The Fiat 600 Multipla was a four-door minivan based on the Fiat 600's drivetrain that sat up to six people in a footprint just 50 cm (19.7 in) longer than the original Mini Cooper and on the same 2 m (78.7 in) wheelbase as the 600 saloon. This had been achieved by moving the driver's compartment forward over the front axle, effectively eliminating the boot but giving the body a very minivan-like "one-box", flat-front look. The car debuted at the Brussels Motor Show in January 1956. Even the then Corps of the Public Security Guards (today the State Police) decided to use the Fiat Multipla and several specimens were delivered to the Traffic Police as a result of the wide versatility of the little van. Not the best vehicle for high speed chase, but so… Italian!