Fiat 850 Special Coupe Apparel and Accessories by Legend Lines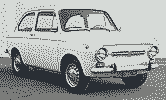 Released in 1964, the Fiat 850 was a small rear-engine rear wheel drive vehicle that was designed in the tradition of the Renault Dauphine. The internal Fiat codename for the 850 project was 100G (the G stood for the Italian word Grande). Several body styles were featured alongside the 850 that carried similar technical components and enhanced the 850 range. The Fiat 850 Special, a revised version of the 850 sedan. It offered front disc brakes, sport steering wheel and improved trim. With a 25 percent increase in power, plus disc brakes nestled behind 13" wheels, it was a "sport sedan" in the vein of the BMW 2002, albeit on a smaller scale. With its own unique Bertone body style, the 850 is now a classic car with tons of charm.
Showing items 1-14 of 14.