Fiat 850 Spider Convertible Apparel and Accessories by Legend Lines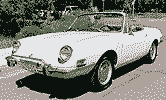 At the same time as the Coupé, Fiat also introduced the convertible sporty two-seater Spider. The body was designed and built by Bertone in its Grugliasco, Turin plant. The folding roof section made of fabric could be stowed away completely under a rear flap. The Bertone design also featured smooth, essential lines and simple yet elegant details, such as the recessed headlamps equipped with tilted plexiglass covers to follow the lines of the wings, and the dihedral side panels inspired by Bertone's 1963 Corvair Testudo. This engine ran counterclockwise, a unique feature compared to other engines.
Showing items 1-14 of 14.