Fiat 850 Sport Coupe Apparel and Accessories by Legend Lines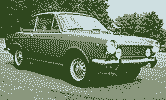 Released in 1964, the Fiat 850 was a small rear-engine rear wheel drive vehicle that was designed in the tradition of the Renault Dauphine. The internal Fiat codename for the 850 project was 100G (the G stood for the Italian word Grande). Several body styles were featured alongside the 850 that carried similar technical components and enhanced the 850 range. The Coupé was introduced for the first time 1965 at the Geneva Motor Show. It was a pretty little 4-seater coupe that was based on the 850 saloon, available in two engine sizes fitted at the rear. It shown respectable performance at that time with a maximum speed of 84 mph (135 km/h). With its own unique Bertone body style, the 850 is now a classic car with tons of charm.
Showing items 1-14 of 14.