HUMMER HUMVEE H1 Military Apparel and Accessories by Legend Lines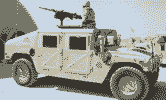 The name Hummer evokes an image of great proportions, a vehicle that can withstand almost anything. Military in appearance, the Hummer line is recognizable at first sight. Originally, these vehicles were created under a contract for the U.S. armed forces. Introduced in 1992 the H1 continued on until 2006 and was the beginning of what became the Hummer line. The Hummer H1 has Arnold Schwarzenegger for one to thank for its birth in the civilian market. The H1 had three common variants, a four-door hardtop pickup truck, a Wagon body version and a convertible-like soft top. Lesser known variants include a two-door pickup truck and a four-door slantback.
Showing items 1-11 of 11.