MG MGB GT MKI Apparel and Accessories by Legend Lines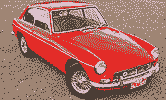 By the end of the '50s a replacement car was needed for the MGA. The MGB, designed by Frua, an Italian stylist, was launched in 1962. It delivered exceptional performance, handling, and fuel efficiency for its day. With over a half-of-a-million examples produced, it is one of the most popular and successful sports cars of all time.
Showing items 1-11 of 11.