Morris Minor 2 Doors Saloon Apparel and Accessories by Legend Lines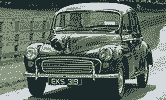 Considered to be the 'World's Supreme Small Car', by the motoring press at the launch, the demand of the Morris Minor outstripped supply of the company. Originally called the Mosquito, the Morris Minor was introduced on September 20th, 1948. Alec Issigonis' concept was to combine the luxury and convenience of a good motor car at a price affordable by the working classes. The 2-door Saloon was as its name say an elegant little two door coupe. The first British car to sell over 1,000,000 units. In 1952 an estate version was introduced. Known as the Traveller (a Morris naming tradition for estates, also seen on the Mini). The Traveller featured an external structural ash (wood) frame for the rear bodywork, with two side-hinged rear doors. Then in 1956 the four-seater convertible was offered to the public. Also known, as the Tourer, it was a very enjoyable vehicle with excellent fuel economy and appropriate performance. The Austin Morris Minor was produced until 1971 and has become a very collectible vehicle.
Showing items 1-11 of 11.