Morris Minor Police Car Apparel and Accessories by Legend Lines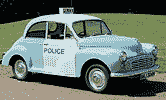 As a general purpose Police car, the Minor had its following - Stockport Constabulary was using 2-door Minor saloons finished in a rather striking Chevron livery between 1962 and 1964 - but it was the arrival of the Unit Beat Panda Car in 1965 that established the Minor's iconic image as one of Britain's definitive Panda cars. The thinking being the panda car was that the "bobby on the beat" could more effectively patrol larger suburban or rural areas as opposed to foot patrols - and would be readily accessible via the panda car's two-way radio. In the period between 1965 and 1969, various cars from the Mini, the Austin A40 'Farina', the Morris 1100 and the Triumph Herald to the Anglia 105E, the Hillman Imp and the Vauxhall Viva (not to mention the Ford Zephyr 4 Mk. III) was used for Unit Beat work but it was the Minor that became the Panda Car of choice for forces across the UK.
Showing items 1-10 of 10.