Peugeot 203 4 Doors Sedan Apparel and Accessories by Legend Lines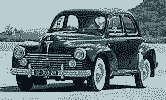 The Peugeot 203 was a family car which was produced by Peugeot between 1948 and 1960. The 203 was Peugeot's first new model launched after WWII. During its twelve-year production run nearly 700,000 203s of all variants rolled off the assembly line. Between 1949 and 1955, the 203 was the only model produced by Peugeot. The 203 was the first monocoque bodied production Peugeot. The car was eye catching, modern and bore a marked resemblance to the American Chevrolet Fleetline fastback, although its wind cheating profile also reflected the streamlining trend apparent in some of Europe's more modern designs. The 4-door saloon was the major seller, but from 1950 a commodious 4-door version (Commerciale) and a 6-seat (Familiale), with three rows of seats, were also offered. Along with improvements to the existing cars, Peugeot introduced a 2-door 203 coupé at the end of 1952, although this was not as successful as hoped and quietly disappears from the brochures a year later.
Showing items 1-11 of 11.