Peugeot 403 Cabriolet Convertible Apparel and Accessories by Legend Lines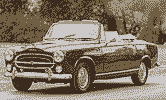 The 403 made its debut in saloon body style in April 1955 at the Trocadéro Palace in Paris. The convertible was introduced to the public in 1956. Styled by Pininfarina, the 403 featured a three-box styling. The collaboration with Pininfarina marked the start of a partnership which would see the Italian designer producing designs for Peugeot. The two-door cabriolet version of the car featured a luxurious interior featuring high quality leather upholstery. In 1958 the 403 cabriolet cost 80% more than the entry level, and presumably for this reason the convertible 403 was produced and sold only in very modest numbers.
Showing items 1-12 of 12.