Peugeot 404 4 Doors Sedan Apparel and Accessories by Legend Lines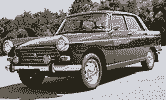 The Peugeot 404 was a large family car produced Peugeot from 1960 to 1975. The 404 was developed in collaboration with Pininfarina in the 1958-59 period, and introduced to the press in May 1960. A truck body style variant was marketed until 1988. The 404 was manufactured African countries (until 1991), Argentina Canada and in Chile. Styled by Pininfarina, the 404 was offered initially as a saloon, estate, and pickup. A convertible was added in 1962, and a coupé in 1963. The 404 was fitted with a 1.6 litre petrol engine, or a 1.9 litre diesel engine available as options. Roughly the same size as the 403, the 404 was an altogether more modern design, and was considered to be quite stylish at its introduction. The tailfins were a more refined version of the excesses seen in the late fifties and early sixties in US design. Some criticised Pininfarina for "selling the same design" to several manufacturers but there were many differences in detail and the 404 was probably the most elegant of the bunch. Popular as a taxicab, the 404 enjoyed a reputation for durability and value. Peugeot's French production run of 1,847,568 404s ended in 1975. A total of 2,885,374 units had been produced worldwide at the end of production.
Showing items 1-11 of 11.