Renault 4CV Apparel and Accessories by Legend Lines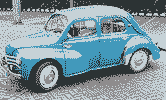 The 4CV was originally conceived and designed covertly by Renault engineers during the World War II German occupation of France, when the manufacturer was under strict orders. Between 1941 and 1944 Renault was placed under the strict technical directorship of a German engineer, Wilhelm von Urach who failed to notice the small car project emerging on his watch. The 4CV was ultimately presented to the public and media at the 1946 Paris Motor Show and went on sale a year later. On the 4CV's launch, it was nicknamed "La motte de beurre" (the lump of butter); this was due to the combination of its shape and the fact that early deliveries all used surplus paint from the German Army vehicles of Rommel's Afrika Korps, which were a sand-yellow color. Later it was known affectionately as the "quatre pattes", "four paws". The 4CV had sold 37,000 units by mid-1949 and was the most popular car in France. Across the Rhine 1,760 4CVs were sold in West Germany, and ranked second only to the Fiat 500 on the list. The car remained in production for more than another decade. The 4CV's direct replacement was the Dauphine, launched in 1956, but the 4CV remained in production until 1961. The 4CV was also assembled in seven other countries: Australia, Belgium, England, Ireland, Japan (where the Hino-assembled cars gained a reputation for superior quality), Spain and South Africa. A total of 1,105,543 4CV were produced.
Showing items 1-11 of 11.