Renault 4CV Police "Pie" Ville de Paris Apparel and Accessories by Legend Lines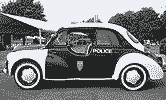 Renault 4CV PIE Police de la Prefecture de Paris 1955 Being the first French modern car after the war, the 4CV appeared as a Police car in 1955. At the time, except for the Citroen Traction Avant and mostly driven by detectives, the police did not a park of police cars, and depended mostly on trucks and bicycles. The Parisian coachbuilder Currus designed the unfamous vehicle. Modifications to the production version included cutaway door windows, for easy access and body signage, as well as enabling the use of firearms when required, suppression of the B pillar and a tuned and more powerful engine to facilitate the pursuit of fleeing criminals. The 'PP' (Prefecture of Police) 4CVs were painted in distinctive black and white livery, hence their nickname 'pie' (magpie). The modified 4CVs proved to be the ideal vehicles for policing the crowded roads of the French capital. Soon after, Renault treated the police department to lift the car's warranty following the B pillar's modification. The remaining 60 4CVs had standard bodies delivered and conserved the B pillar. Because of this, all the original police cars were later crushed… almost all but 2 or 3! The first one was send to New York for an official presentation in 1959. NYPD was looking for a small and agile little car, capable of squeezing through traffic.

Showing items 1-11 of 11.