Renault 4L R4 Gendarmerie Apparel and Accessories by Legend Lines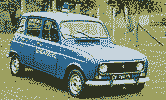 The Renault 4, commonly referred to as the 4L, first appeared in 1961. It was immediately embraced by the French people, who made of this car a legend amongst its peers. With its straightforward design it became a favorite for all. Throughout its life the Renault 4L was decline is several versions from a cabriolet to 4x4, to commercial van, as well as a "gendarmerie" version. Gendarmerie, is the term used by the branch of the armed forces responsible for internal security. The 4L was selected by the authorities as it was the only car with a large headroom enough to allow the "Gendarmes" to drive while wearing their "Kepis". The first models were painted white or gray, later the Gendarmerie adopted the legendary "blue Gendarme" that still characterized their fleet of vehicle. The 4L performed loyal services to the Gendarmerie for more than 30 years. The last but 2 of the 4L ever built, was a Gendarmerie..
Showing items 1-11 of 11.