Renault 4L R4 Series 1 - 2 Apparel and Accessories by Legend Lines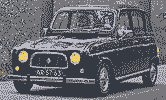 The Renault 4, also known as the 4L (pronounced "Quatrelle" in French), was a small economy car produced by Renault between 1961 and 1994. The car was launched at a time when several decades of economic stagnation. The first million cars were produced by 1 February 1966, less than four and a half years after launch; eventually over eight million were built, making the Renault 4 a commercial success because of the timing of its introduction and the merits of its design. It would be a family car, a woman's car, a farmer's car, or a city car. Renault launched the Renault 4 at the Paris Motor Show on a specialized demonstration display that incorporated an irregular rolling road. The Renault 4 was a basic car with a simple dashboard and sliding windows. Suspension and seats were designed for comfort, and ventilation and the heater were effective. The Renault 4 was produced for many years, but was not significantly changed. The production of the R4 finally finished after 31 years and over eight millions units.
Showing items 1-11 of 11.