Renault 5 R5 Series 1 Apparel and Accessories by Legend Lines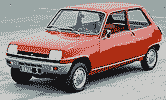 The Renault 5 was styled by Michel Boué, who designed the car in his spare time, outside of his normal duties, just for the fun. When Renault executives learned of Boué's work, they were so impressed by his concept they immediately authorized a formal development programme. The R5 featured a steeply sloping rear hatchback. It was one of the first modern superminis, which capitalised on the new hatchback design, which Renault had patented on its R16, launched in 1965. The R5 was launched three years before the Volkswagen Polo and four years before the Ford Fiesta - new superminis which met the growing demand for this type of car in Western Europe. Although the mechanical components came from earlier models, body construction involved floor sections welded together with the other body panels, resulting in a monocoque structure. The R5 was one of the first cars produced with plastic (polyester and fiberglass). These covered a larger area of potential contact than conventional car bumpers of the time and survived low speed parking shunts without permanently distorting. This helped the car gain a reputation as an "outstanding city car", and bumpers of this type subsequently became an industry standard.

Showing items 1-11 of 11.