Triumph Spitfire 1500 Apparel and Accessories by Legend Lines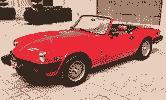 Michelotti was commissioned in 1970 to redesign the Spitfire. The result was a design similar to the Triumph 2000 and Triumph Stag. The doors were given recessed handles, the front end was changed now featuring a plastic grille and plastic bumper underrider covers. The wheel arches were flared which gave it a more aggressive stance. Pop-up headlights were proposed but never made it into production due to the expense. The rear end was redesigned resulting in improved cargo space. The two small bumpers found on the previous Spitfires were replaced with a single piece unit. The windshield height was increased by two inches. The interior dashboard was updated; the instruments were now in front of the driver rather than in the center console. A heater and seat belts were now standard equipment. The two-seater sports car was named "Spitfire" to commemorate the famous WWII fighter aircraft.
Showing items 1-14 of 14.