Triumph Spitfire MKI MKII Apparel and Accessories by Legend Lines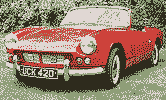 The Triumph Spitfire was designed to compete in the small sports car market. Italian designer Michelotti was commissioned for the new project, and came up with a traditional, swooping body. Wind-up windows were, as well as a single-piece front end, which tilted forwards to offer unrivalled access to the engine. Triumph was in deep financial trouble, and it was not until the company was taken over by the Leyland that the car was launched, in 1962. Leyland found Michelotti's prototype hiding under a dustsheet in a corner of the factory and rapidly approved it for production. The two-seater sports car was named "Spitfire" to commemorate the famous WWII fighter aircraft.
Showing items 1-13 of 13.