Volkswagen Golf Rabbit Convertible Apparel and Accessories by Legend Lines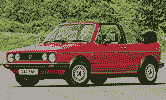 The convertible version, named the Golf Cabriolet (or Typ 155) in Europe and Canada ("Rabbit Convertible" in America originally and renamed in 1985 to "Cabriolet"), was sold from 1980 to 1993. It had a reinforced body, transverse roll bar, and a high level of trim, and kept the pre-1980 style of rear lamp clusters. The Mk1 Cabriolet is of unibody construction built entirely at the factory of Karmann, from stamping to final assembly; Volkswagen supplied the engine, suspension, interior, etc. for Karmann to install. The vinyl or cloth tops were heavily insulated and manually - or beginning in 1991, electrically - operated, with a heated glass rear window. The body of the Cabriolet did not change through the entire production run except for a larger fuel tank. In an attempt by Volkswagen to keep the car's styling current, all Cabriolets from 1988 on were fitted with a "Clipper" kit out of the factory, featuring smooth body-colored bumpers, wheel arch extensions, and side skirts. There were a few special editions of the Cabriolet including the Etienne Aigner, Carat, CC, Wolfsburg, and Best Seller editions. One of them was produced in Italy using Golf II Country engine and transmission by ACM, called "Golf Country Cabrio" and sold as "Biagini Passo".
Showing items 1-11 of 11.