Volkswagen Golf Rabbit GTI MKI Apparel and Accessories by Legend Lines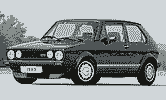 The Volkswagen Golf or Rabbit was a small car produced by the German manufacturer Volkswagen since 1974, marketed worldwide across several generations, in various body configurations and under various name – such as VW Golf, Rabbit, Caribe, or Citi Golf. The original Golf Mk1 was a front-wheel drive front-wheel drive, front-engined replacement for the air-cooled, rear-engined, rear-wheel drive Volkswagen Beetle. Historically, the Golf is Volkswagen's best-selling model and the world's second best-selling model, with more than 29 million built by 2012. In 1975 VW Introduced at the Frankfurt Motor Show, the Golf GTI "hot hatch" with a fuel-injected engine capable of 110 mph (180 kmh). The idea behind was rather straightforward - take the basic-transportation economy car and give it a high-performance package, making it practical and sporty. Many regard the Golf GTI Mk1 as the first "hot hatch" on the market, it was in fact preceded by the Autobianchi A112 Abarth in 1971. Volkswagen initially built the GTI only for the home market of West Germany, but launched it in Britain in 1977 in left-hand drive form, with a right-hand drive version finally becoming available in 1979 as demand and competition increased. The Rabbit GTI didn't arrive in the United States until the 1983 model year. It gained a reputation for build quality and reliability as well as being quick and agile.
Showing items 1-11 of 11.