Volkswagen Type 3 Squareback Apparel and Accessories by Legend Lines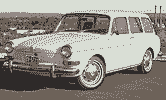 The Type 3 utilizing a low-profile version of Volkswagen's rear-engined Beetle, 4-cylinder air-cooled engine, as well as body-on-chassis. VW finalized the design by 1959 with prototypes ready for testing by 1960. Secrecy was such that even at the 1960 Geneva Auto Show, VW denied they were readying a new design. In 1961 VW announced the new line as the "VW 1500". Production began in August 1961, a month before launch, of the Notchback, a three-box styling. The Fastback, or TL version, a fastback coupé, arrived in August 1965, at the same time the 1600 engine was introduced. Volkswagen of America began importing the Type 3 in 1966 in the "Squareback" ('Variant' badges were not used in the US market) and "Fastback". The Fastback was a bit of a Swiss Army knife, and made good use of the low and flat pancake motor, as a young Dustin Hoffman points out in this famous "where's the engine?" ad for the Fastback: Presumably, he got the job because his short stature makes the Fastback look larger than life; an old Detroit ad trick. It was a supposed to be sporty, or luxurious, or just a high-priced VW? Its appeal and sales were undoubtedly to those upgrading from a Beetle and for some the quality of a Volkswagen were a habit hard to break. The Type 3 remained in production until July 1973.
Showing items 1-12 of 12.