Volvo P210 P220 Polis Apparel and Accessories by Legend Lines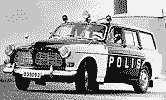 This P220 model was as an estate based on the 121/122S (Amazon). It made its debut at the Stockholm Motor Show in February 1962. The P220 had four doors and the tailgate was divided into two parts, one part folded down and the other folded up. This design was inspired by station wagons from the USA. The production of the P220 took place alongside that of the P210 and the P220 became more frequent outside the Nordic markets. Volvo Cars began its long tradition of developing emergency service vehicles back in 1929 with the Swedish police force. The Volvo Amazon represented the Swedish police force's best choice if it wanted a patrol car with a 'made in Sweden' label. In 1956, when the Amazon made its debut, rival Saab's only mass-produced model was the two-door 96. Taking criminals to the police station would have involved cajoling them to squeeze between the front seat and the door pillar. The Amazon's four-door layout and relatively spacious cabin made the task much simpler. In 1962, an even better option was reached with the spacious station Wagon P220. Tuned to satisfy heavy load, performance and reliabilities, they gained a great reputation among the police force. The new thing about the cars is that they are painted from all black to black and white, according to the American models. Build quality was superb compared to many other police models of the time, they were known for safety, handling, and the reliability was really good. 1969 was the last year of the yellow rotating light and the small red warning lights. They were replaced in 1970 by rotating blue light.
Showing items 1-10 of 10.