Volvo P210 P220 Station Wagon Apparel and Accessories by Legend Lines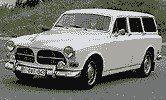 Based on the 121/122 Amazon, the P220 made its debut at the Stockholm Motor Show in February 1962. The Amazon estate featured a two-piece tailgate, with the lower section folding down to provide a load surface and the upper section that hinged overhead. The Amazon wagon was Volvo's first true wagon; it was also the first Volvo five-door to offer all the roadholding and charm of its siblings. Unlike its predecessor, the Amazon boasted unitary construction and a decent turn of speed.
Showing items 1-11 of 11.