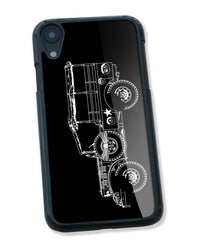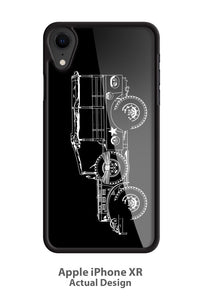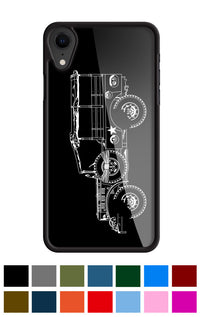 1944 Dodge WC-51 Weapons Carrier WWII Smartphone Case - Side View
Product Code:
1944_DODGE_WC_51_BIG_BLK
1944 Dodge WC-51 Weapons Carrier WWII Cell Phone Case for Smartphone
The Dodge WC series was a prolific range of light 4WD and medium 6WD military utility trucks, produced by Dodge / Fargo during World War II. Together with the ​1⁄4-ton jeeps produced by Willys and Ford, the Dodge ​1⁄2-tons and ​3⁄4-tons made up nearly all of the light 4WD trucks supplied to the U.S. military in WWII – with Dodge contributing some 337,500 4WD units. The Dodge WC‑series came in many different, purpose-built, but mechanically uniform variants from the factory, much akin to the later family of High Mobility Multipurpose Wheeled Vehicles. The WC series evolved out of, and was part of a more extended family of trucks, with great mechanical parts commonality, that included open- and closed-cab cargo trucks and weapons carriers, (radio) command cars, reconnaissance vehicles, ambulances, carryalls, panel vans, and telephone installation and mobile emergency / field workshop trucks. Dodge was the U.S. Army's main supplier of ​1⁄2-ton trucks, and its sole supplier of both ​3⁄4-ton trucks and 1​1⁄2-ton six-by-six trucks in World War II. With over a quarter million units built through August 1945, the G502 ​3⁄4-tons were the most common variants in the WC‑series. After the war, Dodge developed the ​3⁄4-ton WC‑series into the civilian 4x4 Power Wagons; and in 1951, the WCs were replaced by the very similar ​3⁄4-ton 4x4 Dodge M-series vehicles. WC was not an abbreviation of "Weapons Carrier", but a Dodge model code – initially W for 1941, and C for half-ton rating. However, the 'WC' model code was retained for both the ​3⁄4-ton and 1​1⁄2-ton 6x6 Dodges – as well as for the subsequent model years. All in all, not counting mechanically related variants, the WC series alone involved 52 model versions (thirty ​1⁄2‑ton 4x4, eight ​1⁄2‑ton 4x2, twelve ​3⁄4‑ton 4x4, and two 1​1⁄2‑ton 6x6 models). Standard vehicles in the ​3⁄4-ton 4×4 class were the WC-51 / WC-52 Weapons Carrier, WC-56 /-57 /-58 (Radio) Command Reconnaissance, WC-53 Carry‑all, and the WC-54 Ambulance. In the cargo/troop and command trucks, the WC-52 and WC-57 are identical to the WC-51 and WC-56, but with a longer frame, extending to carry the protruding front bumper with front-mounted winch.
A game of subtle lights and shadows reveal the magnificent curves of the body of this Legendary American automobile: The 1944 Dodge WC-51 Weapons Carrier WWII one of the most influential vehicle of the 20th century. A true Car Legend that lives forever: the 1944 Dodge WC-51 Weapons Carrier WWII Cell Phone Case for Apple iPhone and Samsung Galaxy Smartphones.
Available in:
Black • Silver Grey • Military Green • Lemans Blue • British Green • Racing Blue • Dark Red • Cattail Brown • Steel Blue • Good Orange • Italian Red • Light Blue • Light Pink • Hot Pink
for:
Apple iPhone 4 • 4s • 5 • 5s • 5SE • 6 • 6s • 6 Plus • 6s Plus • 7 • 7 Plus • 8 • SE • 8 Plus • X • XS • XS Max • XR • 11 • 11 Pro • 11 Pro Max • 12 Mini • 12 • 12 Pro • 12 Pro Max • 13 Mini • 13 • 13 Pro • 13 Pro Max • 13 Mini • 14 • 14 Plus • 14 Pro • 14 Pro Max • 15 • 15 Plus • 15 Pro • 15 Pro Max
Samsung Galaxy S4 • S5 • S6 • S7 • S8 • S8+ • S9 • S9+ • S10 • S10e • S10+ • S20 • S20+ • S20 Ultra • S20 Lite • S20 FE • S21 • S21+ • S21 Ultra • S21 FE • S22 • S22+ • S22 Ultra • S23 • S23+ • S23 Ultra

The cover / case is made of Flexible Rubber or Hard Plastic (for the oldest models) and a Printed Aluminum Insert.
The image is permanently infused into the aluminum that will not crack, fade, chip, or peel (we do not use stickers or decals).
Easy access to all buttons and features of your phone, plug your charger cable, and headset without removing the case.
The Smartphone is not included. You will receive 1 (one) Smartphone case / cover / skin only.
This Smartphone Case is brand new with tag. It is in stock, packed in bubble bag and ready to ship.
This product was designed, printed & packed in the USA.

*Dodge or any other marks are registered trademarks. Our products are not approved by any of these manufacturers and trademarks. We do not imply any association with these manufacturers and references are based on historical information in the public domain.