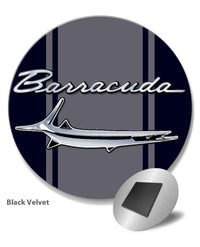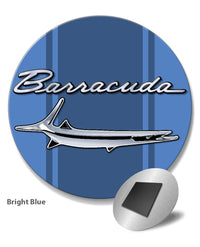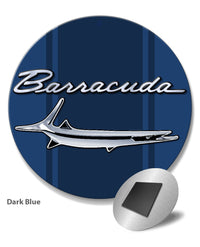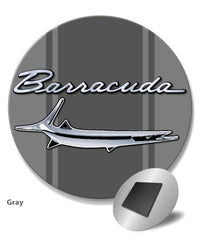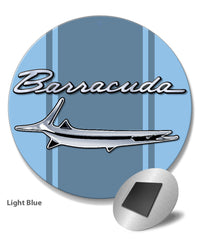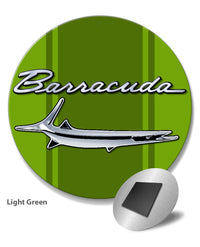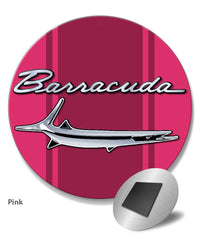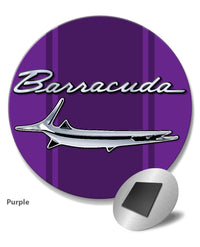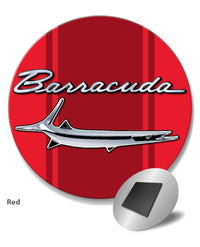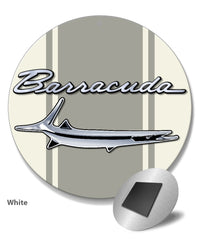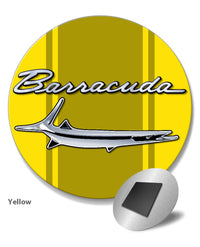 1964 - 1969 Plymouth Barracuda 'Cuda Fish Emblem Round Fridge Magnet
Product Code:
BARRA_RD_MAG_BLK
Vintage 1964 - 1969 Plymouth Barracuda 'Cuda Fish Emblem Novelty Round Fridge Magnet

The second-generation Barracuda, now a 108 in (2,743 mm) wheelbase A-body, was launched in 1967. It still shared many components with the Valiant but was stylishly redesigned with model-specific sheet metal, and a convertible and notchback hardtop joining the original fastback. To accommodate larger engines, the engine bay was enlarged. There were multiple engine offerings that ranged in configuration and horsepower ratings. The 383 ci 8-cylinder was the top-of-the-line producing 280 horsepower. That was impressive, especially considering the horsepower to weight ratio. Many chose the 340 ci eight-cylinder because the 383 and Hemi were reported to make the Barracuda nose-heavy while the 340 offered optimal handling. In 1968 Plymouth offered a Super Stock 426 Hemi package. The lightweight body and race-tuned Hemi were perfect for the drag racing circuit. Glass was replaced with lexan, non-essential items were removed, and lightweight seats with aluminum brackets replaced the factory bench, and were given a sticker that indicated the car was not to be driven on public highways but for supervised acceleration trials. The result was a car that could run the quarter mile in the ten-second range. For 1969 a limited number of 440 Barracudas were produced, giving the vehicle a zero-to-sixty time of around 5.6 seconds.
Perfect for all car enthusiasts that want to show their passion for their 1964 - 1969 Plymouth Barracuda 'Cuda Fish.This 2.25" (57 mm) round magnet will look so cool on your fridge, tool box, metal shelving, or anywhere you want, as long as it's ferromagnetic. It is quality made of .045" Aluminum that will not fade or break and a1/2 inch square magnet in the back. Make room on the fridge, you deserve a special decoration spot in the middle of the other fridge magnets. Stick it to anything you'll like on your desk, car, workbench, toolbox, or man cave board. Choose between 14 different colors that contrast beautifully with the vintage 1964 - 1969 Plymouth Barracuda 'Cuda Fish emblem. For any car guy, this is the ideal gift to add style and show their passion, even in the middle of the kitchen.
Available in: Red - Purple - Light Green - Orange - Yellow - Pink - Bright Blue - Light Blue - Black Velvet - Dark Orange - Dark Green - Dark Blue - Gray - White
- Made of 0.045" (1.14 mm) Aluminum
- 2.25" (57.2 mm) diameter
- Durable aluminum material
- Water-resistant & easy to clean
- 1" backer magnet for adhesion
Made in USA
* Plymouth or any other marks are registered trademarks. Our products are not approved by any of these manufacturers and trademarks. We do not imply any association with these manufacturers and references are based on historical information in the public domain.