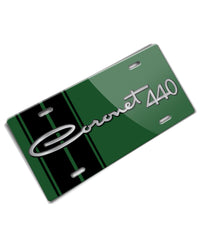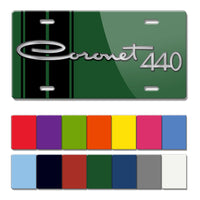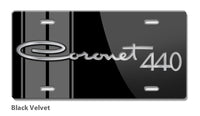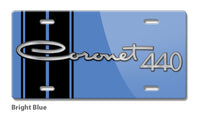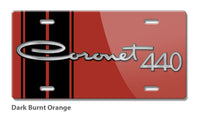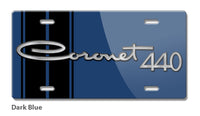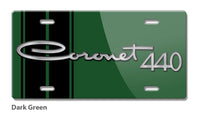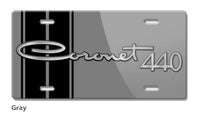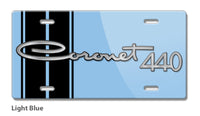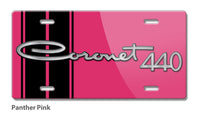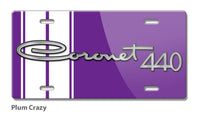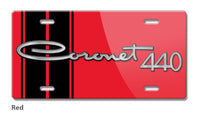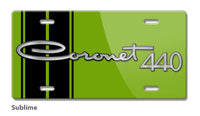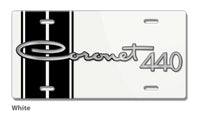 Dodge Coronet 440 1965 - 1966 Emblem Novelty License Plate
Product Code:
1965_66_CORONET_440_LOGO_LP_DRKGREEN
1965 - 1966 Dodge Coronet 440 Emblem Novelty License Plate
In 1968 Dodge began creating prototypes for the Challenger, but it was not Introduced before the fall of 1969 for the 1970 model year, the Challenger was one of two Chrysler E-body cars, the other being the slightly smaller Plymouth Barracuda. Positioned to compete against the Mercury Cougar and Pontiac Firebird in the upper end of the pony car market segment. Chrysler intended the new Challenger as the most potent pony car ever with a staggering number of trim and option levels, and with virtually every engine in Chrysler's inventory with nine engines to select. The base engine was the slant six with the top of the line engine being the 426 Hemi. Dodge offered an SE package which included luxurious items, configuration, and amenities. The R/T, representing Road/Track, was the performance package. It came equipped with dual hood scoops, a heavy duty suspension and the 383 cubic-inch engine producing 335 horsepower. Other engines offered were the 440, 340 and 426 cubic-inch engines. The Dodge Challenger T/A series, meaning Trans AM, was Dodge's attempt to build a street worthy version of its race car. It was only offered in 1970 because the racing version did not perform well on the track and Dodge left the Trans Am racing at the end of the season. The street version was fitted with a 340 Six Pack created by the addition of an Edelbrock aluminum intake manifold and three two-barrel carburetors. The result was 350 horsepower. Disc brakes were standard as was a heavy duty Ralley suspension with wide tires in the rear and thinner tires in the front. Dodge offered a TorqueFlite automatic or a Hurst four-speed transmission. 2,142 examples of the T/A series were created. The quarter-mile was accomplished in just fourteen-and-a-half seconds and zero-to-sixty was around six seconds. During the introductory year in 1970, 53,337 examples were created with the base engine. A little over 13,800 units were created in the R/T configuration in both coupe and convertible form. Nearly 3,700 examples were built with the SE configuration.

Perfect for all car enthusiasts that want to enhance the front look of their 1965 - 1966 Dodge Coronet 440. These Novelty License Plates look great on the front of the car or a wall at home, garage, office, workshop, Man cave, private roadways or anywhere you feel you deserve a special deco spot. This is the ideal gift for any car enthusiast.
Available in: Top Banana, Black Velvet, Bright Blue, Dark Burnt Orange, Dark Blue, Dark Green, Go Mango, Gray, Light Blue, Panther Pink, Plum Crazy, Red, Sublime and White
Made of .032 Aluminum
6" x 12" (153 x 306 mm) standard automotive license plate size
4 holes for easy mounting
Water-resistant
UV protected for outdoor use and durability
Made in USA
* Dodge or any other marks are registered trademarks. Our products are not approved by any of these manufacturers and trademarks. We do not imply any association with these manufacturers and references are based on historical information in the public domain. While every endeavor has been made to accurately reproduce colors, there may be variations compare to the actual and true Plymouth colors, because of the print / sublimation process