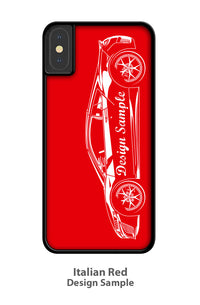 1965 AC Shelby Cobra 289 Smartphone Case - Side View
Product Code:
CBR_289_SDLND_BIG_BLK
1965 AC Shelby Cobra 289 Cell Phone Case for Smartphone
British specialist manufacturers AC Cars, after loosing their Bristol engine, received a letter from American automotive designer Carroll Shelby asking if they would build him a car modified to accept a V8 engine. AC agreed, provided a suitable engine could be found. Shelby went to Chevrolet to see if they would provide him with engines, but not wanting to add competition to the Corvette they refused. However, Carroll was a champion and he wasn't going to give up without a fight. So he went to the next giant car automaker; Ford. Ford had a giant "hole" in their inventory of models; they had nothing that could compete against the Corvettes and they happened to have a brand new engine which could be used in this endeavor. In Los Angeles on 2 February 1962, AC, Carroll and his team built the first Cobra at Dean Moon's shop in Santa Fe Springs. Later the production moved to Venice Beach, one of the most iconic automobile of the 60s was born, and the rest is history!
A game of subtle lights and shadows reveal the magnificent curves of the body of this Legendary British automobile: The 1965 AC Shelby Cobra 289 one of the most influential vehicle of the 20th century. A true Car Legend that lives forever: the 1965 AC Shelby Cobra 289 Cell Phone Case for Apple iPhone and Samsung Galaxy Smartphones.
Available in:
Black • Silver Grey • Military Green • Lemans Blue • British Green • Racing Blue • Dark Red • Cattail Brown • Steel Blue • Good Orange • Italian Red • Light Blue • Light Pink • Hot Pink
for:
Apple iPhone 4 • 4s • 5 • 5s • 5SE • 6 • 6s • 6 Plus • 6s Plus • 7 • 7 Plus • 8 • SE • 8 Plus • X • XS • XS Max • XR • 11 • 11 Pro • 11 Pro Max • 12 Mini • 12 • 12 Pro • 12 Pro Max • 13 Mini • 13 • 13 Pro • 13 Pro Max • 13 Mini • 14 • 14 Plus • 14 Pro • 14 Pro Max • 15 • 15 Plus • 15 Pro • 15 Pro Max
Samsung Galaxy S4 • S5 • S6 • S7 • S8 • S8+ • S9 • S9+ • S10 • S10e • S10+ • S20 • S20+ • S20 Ultra • S20 Lite • S20 FE • S21 • S21+ • S21 Ultra • S21 FE • S22 • S22+ • S22 Ultra • S23 • S23+ • S23 Ultra

The cover / case is made of Flexible Rubber or Hard Plastic (for the oldest models) and a Printed Aluminum Insert.
The image is permanently infused into the aluminum that will not crack, fade, chip, or peel (we do not use stickers or decals).
Easy access to all buttons and features of your phone, plug your charger cable, and headset without removing the case.
The Smartphone is not included. You will receive 1 (one) Smartphone case / cover / skin only.
This Smartphone Case is brand new with tag. It is in stock, packed in bubble bag and ready to ship.
This product was designed, printed & packed in the USA.

*AC Car, Shelby Cobra, Ford or any other marks are registered trademarks. Our products are not approved by any of these manufacturers and trademarks. We do not imply any association with these manufacturers and references are based on historical information in the public domain.