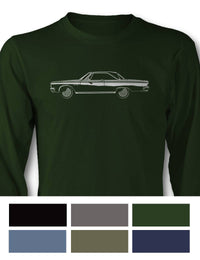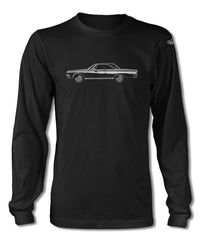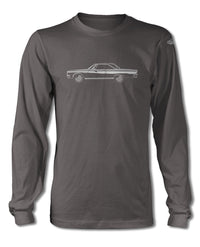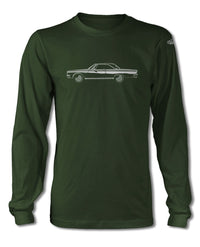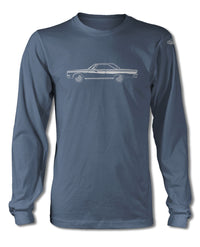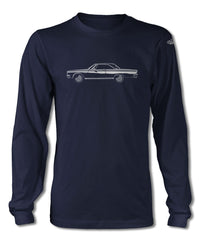 1965 Dodge Coronet 500 Hardtop T-Shirt - Long Sleeves - Side View
Product Code:
1965_DODGE_CORO_500_HT_LS_S_BLK
1965 Dodge Coronet 500 Hardtop Long Sleeve T-Shirt
The Coronet reappeared for the 1965 model year as the fifth generation. For 1965, Dodge sold slightly over 209,000 units, making the Coronet the most popular model sold by Dodge that year. Trim levels initially were base Coronet including a Deluxe version, Coronet 440 and Coronet 500. The middle of the Coronet line-up was the 440 and was available as a two-door hardtop, convertible or station wagon. The 440 designation did not indicate engine displacement as commonly assumed. The top of the Coronet line-up was the Coronet 500 and was available only as a two-door hardtop or convertible in 1965. Slightly over 33,300 units were sold in 1965 and included as standard, a V8 engine (273 cubic inches), exterior trim and badging, bucket seats, padded dash and chrome floor console. Also available was a 426 cubic-inch Hemi engine that produced 425 horsepower. It was now an intermediate-sized vehicle. The Dodge name was proudly displayed in block letters across the front of the hood. The Coronet name was in script along the front fender too.
A game of subtle lights and shadows reveal the magnificent curves of the body of the 1965 Dodge Coronet 500 Hardtop, a Legendary American Automobile. Detailed and harmonious, the artistic illustration has grabbed the essence of one of the most influential vehicle of the 20th century and is printed in front of the tee. Refine and stylish, it is a perfect wear for any occasion and to show your passion for a true Legend that lives forever: the 1965 Dodge Coronet 500 Hardtop Long Sleeve T-Shirt.

The featured original artwork has been printed on a high quality 6.0 oz 100% pre-shrunk American cotton t-shirt.
Seamless double needle collar - sleeve & bottom hems.
It is available in Black, Charcoal, Indigo, Forest Green, Navy, & Military Green in size S - M - L - XL - 2XL - 3XL

*Ford or any other marks are registered trademarks. Our products are not approved by any of these manufacturers and trademarks. We do not imply any association with these manufacturers and references are based on historical information in the public domain.