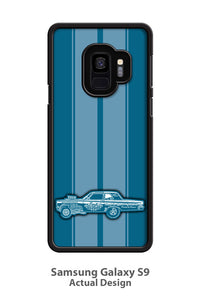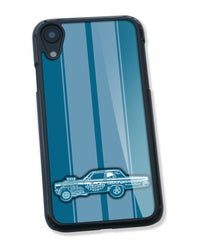 1965 Dodge Coronet Funny Car Smartphone Case - Racing Stripes
Product Code:
1965_FUNNY_LL_STRP_BRITGREEN
1965 Dodge Coronet Funny Car Cell Phone Case for Smartphone
For 1965 only, Dodge also sold only 101 units of a modified wheelbase version of the base Coronet two-door sedan and 440 hardtop used for NHRA drag racing. The model known as A990 came with a racing version of the 426 Hemi engine. The car A990 was stripped of all features and included lightweight base bucket seats from Dodge's A100 truck/van line of vehicles. These altered wheelbase vehicles eventually became popularly known as "funny cars" due to their unique wheel spacing. The front and rear axles were moved forward significantly from the stock location, putting the front wheels directly behind the front fender, and the rear wheels almost under where the rear seat would normally go; this alteration transferred weight to the rear tires, increasing traction on launch. From the popular term "funny cars" was born an entire genre of racing vehicles, which exists to this day (albeit in much transformed form). Front seat belts and padded dash were standard.
A game of subtle lights and shadows reveal the magnificent curves of the body of this Legendary American automobile: The 1965 Dodge Coronet Funny Car one of the most influential vehicle of the 20th century. A true Car Legend that lives forever: the 1965 Dodge Coronet Funny Car Cell Phone Case for Apple iPhone and Samsung Galaxy Smartphones!
Available in:
Silver Grey • British Green • LeMans Blue • Italian Red • Military Green • Good Orange • Oil Black • Racing Blue
for:
Apple iPhone 4 • 4s • 5 • 5s • 5SE • 6 • 6s • 6 Plus • 6s Plus • 7 • 7 Plus • 8 • SE • 8 Plus • X • XS • XS Max • XR • 11 • 11 Pro • 11 Pro Max • 12 Mini • 12 • 12 Pro • 12 Pro Max • 13 Mini • 13 • 13 Pro • 13 Pro Max • 13 Mini • 14 • 14 Plus • 14 Pro • 14 Pro Max • 15 • 15 Plus • 15 Pro • 15 Pro Max
Samsung Galaxy S4 • S5 • S6 • S7 • S8 • S8+ • S9 • S9+ • S10 • S10e • S10+ • S20 • S20+ • S20 Ultra • S20 Lite • S20 FE • S21 • S21+ • S21 Ultra • S21 FE • S22 • S22+ • S22 Ultra • S23 • S23+ • S23 Ultra

The cover / case is made of Flexible Rubber or Hard Plastic (for the oldest models) and a Printed Aluminum Insert.
The image is permanently infused into the aluminum that will not crack, fade, chip, or peel (we do not use stickers or decals).
Easy access to all buttons and features of your phone, plug your charger cable, and headset without removing the case.
The Smartphone is not included. You will receive 1 (one) Smartphone case / cover / skin only.
This Smartphone Case is brand new with tag. It is in stock, packed in bubble bag and ready to ship.
This product was designed, printed & packed in the USA.

*Dodge Coronet or any other marks are registered trademarks. Our products are not approved by any of these manufacturers and trademarks. We do not imply any association with these manufacturers and references are based on historical information in the public domain.