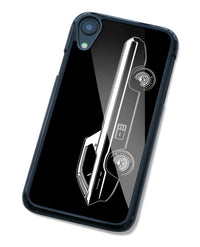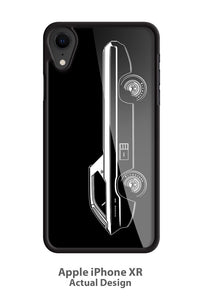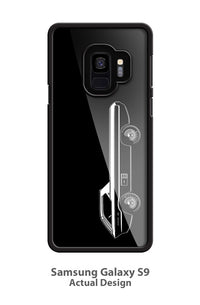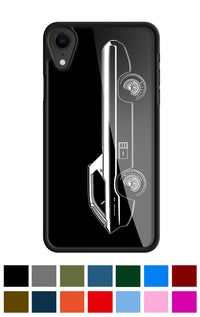 1965 Dodge Deora Showcar pickup A100 Smartphone Case - Side View
Product Code:
1965_DODGE_DEORA_BIG_BLK
1965 Dodge Deora Showcar pickup A100 Cell Phone Case for Smartphone
The Deora, based on a Harry Bradley design, was built by the famed Alexander Brothers, of Detroit. It made its world debut at the 1967 Autorama where it won nine awards. The Deora started life as a 1965 Dodge A100 forward-control pickup that was then chopped, sectioned, and channeled, to create a futuristic custom look. In spite of the radical appearance, the Deora retains the standard Dodge A100 'slant six' engine, although it has been moved rearward, into the pickup bed. The front opening 'door', and swing-away steering wheel is reminiscent of a BMW Isetta, albeit on a much larger scale! The 'Deora' name was the result of a contest held by the AMT model kit company. It comes from an incorrect version of the Spanish word for 'golden.' The Deora was so popular that it became part of the original 1968 line-up of Hot Wheels toy cars. In 1998, the Deora emerged from storage and was fully restored under the guidance of original designer Harry Bradley. It was part of a special display of Alexander Brothers customs at the 50th anniversary Autorama in 2002.
A game of subtle lights and shadows reveal the magnificent curves of the body of this Legendary American automobile: The 1965 Dodge Deora Showcar pickup A100 one of the most influential vehicle of the 20th century. A true Car Legend that lives forever: the 1965 Dodge Deora Showcar pickup A100 Cell Phone Case for Apple iPhone and Samsung Galaxy Smartphones.
Available in:
Black • Silver Grey • Military Green • Lemans Blue • British Green • Racing Blue • Dark Red • Cattail Brown • Steel Blue • Good Orange • Italian Red • Light Blue • Light Pink • Hot Pink
for:
Apple iPhone 4 • 4s • 5 • 5s • 5SE • 6 • 6s • 6 Plus • 6s Plus • 7 • 7 Plus • 8 • SE • 8 Plus • X • XS • XS Max • XR • 11 • 11 Pro • 11 Pro Max • 12 Mini • 12 • 12 Pro • 12 Pro Max • 13 Mini • 13 • 13 Pro • 13 Pro Max • 13 Mini • 14 • 14 Plus • 14 Pro • 14 Pro Max • 15 • 15 Plus • 15 Pro • 15 Pro Max
Samsung Galaxy S4 • S5 • S6 • S7 • S8 • S8+ • S9 • S9+ • S10 • S10e • S10+ • S20 • S20+ • S20 Ultra • S20 Lite • S20 FE • S21 • S21+ • S21 Ultra • S21 FE • S22 • S22+ • S22 Ultra • S23 • S23+ • S23 Ultra

The cover / case is made of Flexible Rubber or Hard Plastic (for the oldest models) and a Printed Aluminum Insert.
The image is permanently infused into the aluminum that will not crack, fade, chip, or peel (we do not use stickers or decals).
Easy access to all buttons and features of your phone, plug your charger cable, and headset without removing the case.
The Smartphone is not included. You will receive 1 (one) Smartphone case / cover / skin only.
This Smartphone Case is brand new with tag. It is in stock, packed in bubble bag and ready to ship.
This product was designed, printed & packed in the USA.

*Dodge Deora or any other marks are registered trademarks. Our products are not approved by any of these manufacturers and trademarks. We do not imply any association with these manufacturers and references are based on historical information in the public domain.