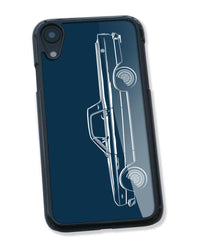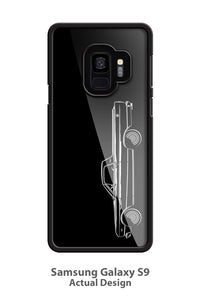 1966 Ford Ranchero Smartphone Case - Side View
Product Code:
1966_FORD_RANCH_BIG_BLK
1966 Ford Ranchero Cell Phone Case for Smartphone
The 1966 version was a one-year model, when Falcon and Fairlane were redeveloped on the same basic platform, one which did not include the sedan delivery, as 1965 marked the final year of sedan delivery production. Instead, the 1966 Ranchero used Falcon front sheet metal, trim, and interior accents on a modified station wagon platform although Rancheros made late in the '66 model year had the same front clip as the Fairlane. Engines available were the 6 cyliders, and two- and four-barrel versions of the 289 cu in V8. The 1966 model was an unusual model year when the Falcon and the Fairlane were redesigned on the same platform. The truck turned out a mix of the two, using a Falcon front end and trim in the beginning and a Fairlane fascia toward the end of the year. The utility grew bigger as the wheelbase reached 113 inches. It was marketed simply as the Ford Ranchero, and did not carry Falcon badges, . Seat belts were standard.
A game of subtle lights and shadows reveal the magnificent curves of the body of this Legendary American Muscle Car, coupe utility: The 1966 Ford Ranchero one of the most influential vehicles of the 20th century. A true Car Legend that lives forever. The harmonious, accurate, and elegant illustration of the 1966 Ford Ranchero is printed on an aluminum insert, surrounded by a black durable plastic case. Available in several bright colors, it will not peel or fade. The Cell Phone Cases are available for Apple iPhone and Samsung Galaxy Smartphones.
Available in:
Black • Silver Grey • Military Green • LeMans Blue • British Green • Racing Blue • Dark Red • Cattail Brown • Steel Blue • Good Orange • Italian Red • Light Blue • light Pink • Hot Pink
for:
Apple iPhone 4 • 4s • 5 • 5s • 5SE • 6 • 6s • 6 Plus • 6s Plus • 7 • 7 Plus • 8 • SE • 8 Plus • X • XS • XS Max • XR • 11 • 11 Pro • 11 Pro Max • 12 Mini • 12 • 12 Pro • 12 Pro Max • 13 Mini • 13 • 13 Pro • 13 Pro Max • 13 Mini • 14 • 14 Plus • 14 Pro • 14 Pro Max • 15 • 15 Plus • 15 Pro • 15 Pro Max
Samsung Galaxy S4 • S5 • S6 • S7 • S8 • S8+ • S9 • S9+ • S10 • S10e • S10+ • S20 • S20+ • S20 Ultra • S20 Lite • S20 FE • S21 • S21+ • S21 Ultra • S21 FE • S22 • S22+ • S22 Ultra • S23 • S23+ • S23 Ultra
The cover / case is made of Flexible Rubber or Hard Plastic (for the oldest models) and a Printed Aluminum Insert.
The image is permanently infused into the aluminum that will not crack, fade, chip, or peel (we do not use stickers or decals).
Easy access to all buttons and features of your phone, plug your charger cable, and headset without removing the case. (inductive charging is not supported).
The Smartphone is not included. You will receive 1 (one) Smartphone case / cover / skin only.
This Smartphone Case is brand new with tag. It is in stock, packed in a bubble bag, and ready to ship.
This product is designed, printed & packed in the USA.
* Ford or any other marks are registered trademarks. Our products are not approved by any of these manufacturers and trademarks. We do not imply any association with these manufacturers and references are based on historical information in the public domain.