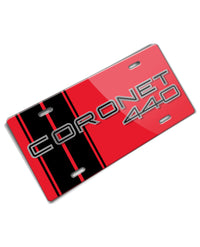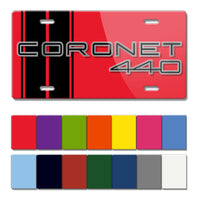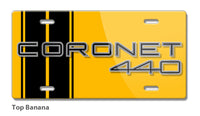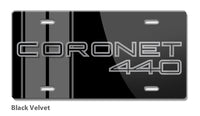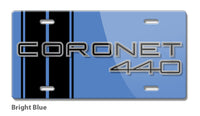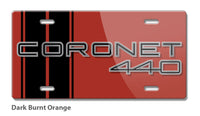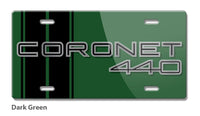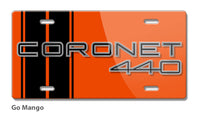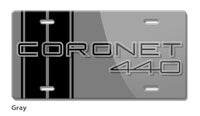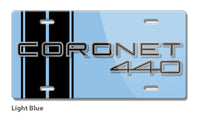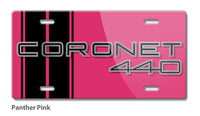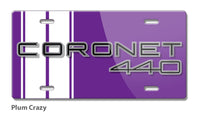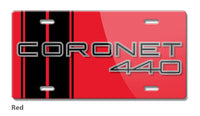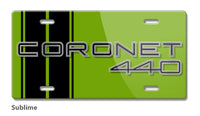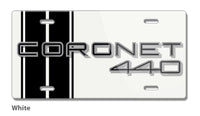 Dodge Coronet 440 1967 - 1968 Emblem Novelty License Plate
Product Code:
1967_68_CORONET_440_LOGO_LP_DRKGREEN
1967 - 1968 Dodge Coronet 440 Emblem Novelty License Plate
The late 60s represented the fiercest period of competition between the Big Three (and to a lesser extent, AMC) for the attentions of speed-thirsty American buyers. Dodge was in the catbird seat with its line-up of fierce street machines, including the Dodge Coronet R/T, the Dodge Charger R/T, the Dodge Dart GTS, and thee Challenger. What was missing, however was a way to unify each of these uniquely-named models under a single, world-beating banner – an issue that would only get worse with the introduction of the Dodge Super Bee mid-year. Then, the idea came up of the 'Scat Pack' designation that would encompass each of these cars. It was a play on words – the Rat Pack had been Sinatra's gang of Hollywood pals that became legendary for their partying and the pictures they made together – and as such Dodge also created an actual Scat Pack Club that both owners and Mopar fans could join for the very affordable price of three dollars. For the money, members received a monthly newsletter, a quarterly magazine, a wallet card declaring their loyalty, a bumper sticker and jacket patch, and a racing guide. The Scat Pack logo was a variation on the drag-racing Super Bee found on, well, the Dodge Super Bee, and collectively the group of cars was referred to as 'the hive.' The marketing team went on the warpath, blanketing dealerships, magazines, and television with references to 'Scat City' and the full line-up of Scat Pack cars. By 1970 the family had ground to include the Charger Daytona and the Dodge Challenger, and when the final year of the Scat Pack came to pass the Dodge Demon 340 was also included.

Perfect for all car enthusiasts that want to enhance the front look of their 1967 - 1968 Dodge Coronet 440. These Novelty License Plates look great on the front of the car or a wall at home, garage, office, workshop, Man cave, private roadways or anywhere you feel you deserve a special deco spot. This is the ideal gift for any car enthusiast.
Available in: Top Banana, Black Velvet, Bright Blue, Dark Burnt Orange, Dark Blue, Dark Green, Go Mango, Gray, Light Blue, Panther Pink, Plum Crazy, Red, Sublime and White
Made of .032 Aluminum
6" x 12" (153 x 306 mm) standard automotive license plate size
4 holes for easy mounting
Water-resistant
UV protected for outdoor use and durability
Made in USA
* Dodge or any other marks are registered trademarks. Our products are not approved by any of these manufacturers and trademarks. We do not imply any association with these manufacturers and references are based on historical information in the public domain. While every endeavor has been made to accurately reproduce colors, there may be variations compare to the actual and true Plymouth colors, because of the print / sublimation process