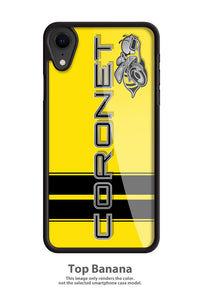 Dodge Coronet Super Bee 1968 Emblem Smartphone Case - Racing Stripes
Product Code:
67_68_DODGE_CORONET_SUPERBEE_LOGO_PHONE_BLK
1968 Dodge Coronet Super Bee Emblem Cell Phone Case for Smartphone
By 1968, the muscle car phenomenon was in high gear as automakers tried to one-up their cross-town rivals with new models and more cubic inches. The horsepower wars for street and strip domination was on par with the cold war arms race. GM had solid footing with the GTO introduced four years earlier, but it was Plymouth that got the formula right: an entry level performance vehicle that the average young enthusiast could afford. Dodge had its own model, and the Coronet Super Bee was introduced in early 1968 as a companion to the Plymouth Road Runner. In keeping with Dodge's position as a step above Plymouth, the Super Bee shared the Charger's Rallye instrument cluster and the Coronet 440's rear finish panel. The Super Bee name (a clever play on the B-body chassis "Super B"), and logo were created by Dodge studio designer Harvey Winn; the logo was used unchanged after he hand-cut the design on his dining room table. The creative team even came up with a unique font for the decals that would adorn the quarter panel.
This refined and elegant smartphone case features one of the most influential muscle cars' emblems of the 20th century: The 1968 Dodge Coronet Superbee Emblem. Set on the infamous psychedelic colorful backgrounds and Racing Stripes, a game of subtle lights and shadows reveal the magnificent curves of the lettering Logo of the 1968 Dodge Coronet Superbee Emblem, a true American Car Legend that lives forever.
Available in:
Go Mango • Sublime • Plum Crazy • Red • Top Banana • Panther Pink • Black Velvet • Light Blue • Dark Burnt Orange • Bright Blue • Dark Green • Dark Blue
for:
Apple iPhone 4 • 4s • 5 • 5s • 5SE • 6 • 6s • 6 Plus • 6s Plus • 7 • 7 Plus • 8 • SE • 8 Plus • X • XS • XS Max • XR • 11 • 11 Pro • 11 Pro Max • 12 Mini • 12 • 12 Pro • 12 Pro Max • 13 Mini • 13 • 13 Pro • 13 Pro Max • 13 Mini • 14 • 14 Plus • 14 Pro • 14 Pro Max • 15 • 15 Plus • 15 Pro • 15 Pro Max
Samsung Galaxy S4 • S5 • S6 • S7 • S8 • S8+ • S9 • S9+ • S10 • S10e • S10+ • S20 • S20+ • S20 Ultra • S20 Lite • S20 FE • S21 • S21+ • S21 Ultra • S21 FE • S22 • S22+ • S22 Ultra • S23 • S23+ • S23 Ultra
The cover / case is made of Flexible Rubber or Hard Plastic (for the oldest models) and a Printed Aluminum Insert.
The image is permanently infused into the aluminum that will not crack, fade, chip, or peel (we do not use stickers or decals).
Easy access to all buttons and features of your phone, plug your charger cable, and headset without removing the case.
The Smartphone is not included. You will receive 1 (one) Smartphone case / cover / skin only.
This Smartphone Case is brand new with a tag. It is in stock, packed in a bubble bag, and ready to ship.
This product was designed, printed & packed in the USA.
* Dodge or any other marks are registered trademarks. Our products are not approved by any of these manufacturers and trademarks. We do not imply any association with these manufacturers and references are based on historical information in the public domain.