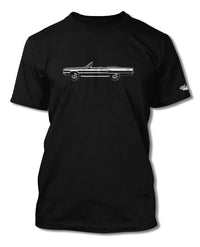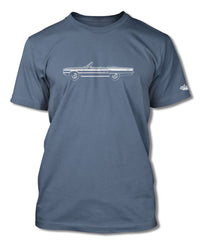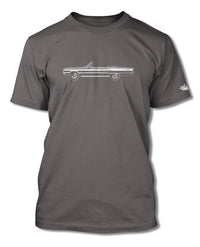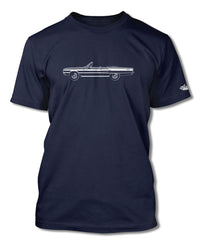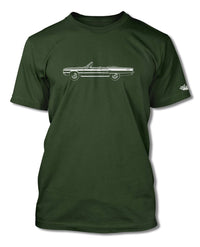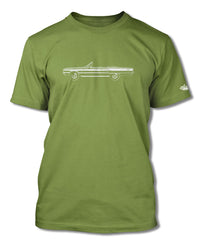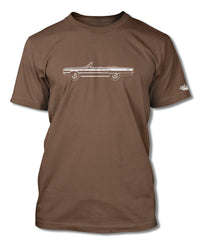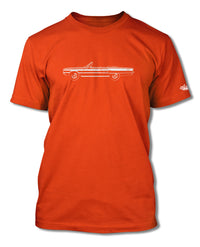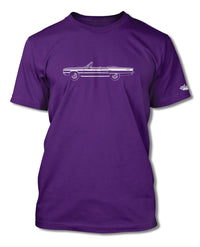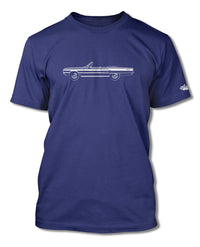 1967 Dodge Coronet RT Convertible T-Shirt - Men - Side View
Product Code:
1967_DODGE_CORO_RT_CV_S_BLK
1967 Dodge Coronet RT Convertible T-Shirt for Men
Dodge, despite its monster Hemi, had fallen behind in the muscle car image race: The Coronet 500 name didn't have the requisite sizzle, despite crisp new lines for 1966. Meant to convey the impression of a dual-purpose performance machine (for Road and Track), the Coronet R/T was available only as a full-on performance car–fast engines, cop-car suspension, a 150 MPH speedo, and no nonsense. The R/T version was introduced as two door hardtop version, and a 2 door convertible. Standard engine was Chrysler's largest, the 440-cid V-8, it was tweaked to 375 bhp and christened the Magnum. The only engine option was the 426-cid Hemi, now in its second year in "Street" trim and again rated at 425 bhp. The R/T version sold well - over 10,000 examples were produced. The 440 cubic-inch V8 engine was capable of propelling the car from zero to sixty in seven seconds.
A game of subtle lights and shadows reveal the magnificent curves of the body of the 1967 Dodge Coronet RT Convertible, a Legendary American Automobile. Detailed and harmonious, the artistic illustration has grabbed the essence of one of the most influential vehicle of the 20th century and is printed in front of the tee. Refine and stylish, it is a perfect wear for any occasion and to show your passion for a true Legend that lives forever: the 1967 Dodge Coronet RT Convertible Short Sleeve T-Shirt.
The featured original artwork has been printed on a high-quality 6.0 oz 100% pre-shrunk American cotton t-shirt.
Seamless double-needle collar - sleeve bottom hems.
It is available in Black, Charcoal, Cherry Red, Forest Green, Indigo Blue, Kiwi, Maroon, Navy Blue, Nuts, Military Green, Orange, Purple, Rust, and Steel Blue
in sizes S - M - L - XL - 2XL - 3XL
*4 Extra Large (4XL), 5 Extra Large (5XL), and Extra Tall (XT) t-shirts are available through special order. Please contact us for colors' availability, pricing and estimated delivery.
*Dodge or any other marks are registered trademarks. Our products are not approved by any of these manufacturers and trademarks. We do not imply any association with these manufacturers and references are based on historical information in the public domain.