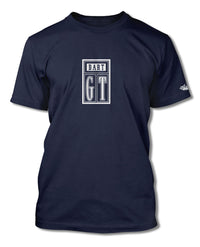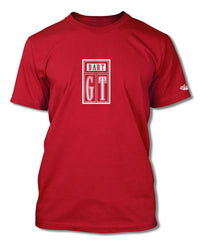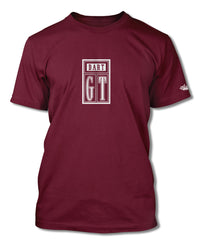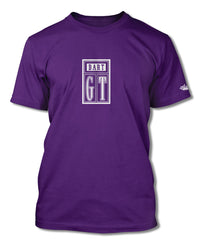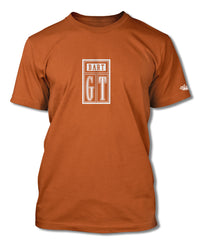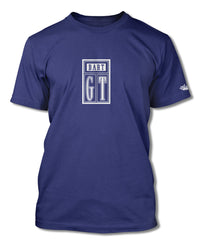 Dodge Dart GT 1967 Emblem T-Shirt - Men - Emblem
Product Code:
1967_DODGE_DART_GT_LOGO_S_BLK
1967 Dodge Dart GT Emblem T-Shirt for Men
The Dart was substantially redesigned for the 1967 model year. In addition to new styling, the cars received revised steering systems, wider front track and frame rail spacing, and capable of accepting larger engines. Dodge claimed that the Dart had turned into a sporty machine for the new model year, with the available V8 engines and the selection of 12 body styles (6 of those could be fitted with the V8 engine). The only body styles were the 2- and 4-door sedans, the hardtop, and the convertible. The GT version carried on unchanged for the most part. In late 1967, the GTS model debuted but was built in limited quantities due to its lateness in the model year. The GT was the top trim level and had special GT emblems on the roof 'C' pillar and chrome rocker panel trim. Pricing began at $2,500 for the hardtop coupe and $2,730 for the convertible.. The 1967 redesign removed all traces of the older Virgil Exner styling that proved less popular by the early 1960s. The newer body was trimmer and proved extremely popular, causing sales of the Dart to surpass compacts from Ford and GM.
A game of subtle lights and shadows reveal the magnificent curves of the 1967 Dodge Dart GT Emblem, a Legendary American Automobile. Detailed and harmonious, the artistic illustration has grabbed the essence of one of the most influential vehicle of the 20th century and is printed in front of the tee. Refine and stylish, it is a perfect wear for any occasion and to show your passion for a true Legend that lives forever: the 1967 Dodge Dart GT Emblem Short Sleeve T-Shirt.
The featured original artwork has been printed on a high-quality 6.0 oz 100% pre-shrunk American cotton t-shirt.
Seamless double-needle collar - sleeve bottom hems.
It is available in Black, Charcoal, Cherry Red, Forest Green, Indigo Blue, Kiwi, Maroon, Navy Blue, Nuts, Military Green, Orange, Purple, Rust, and Steel Blue
in sizes S - M - L - XL - 2XL - 3XL
*4 Extra Large (4XL), 5 Extra Large (5XL), and Extra Tall (XT) t-shirts are available through special order. Please contact us for colors' availability, pricing and estimated delivery.
*Dodge or any other marks are registered trademarks. Our products are not approved by any of these manufacturers and trademarks. We do not imply any association with these manufacturers and references are based on historical information in the public domain.