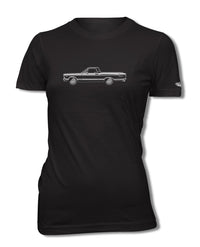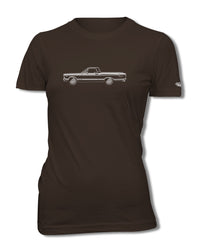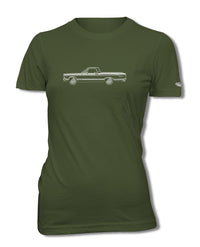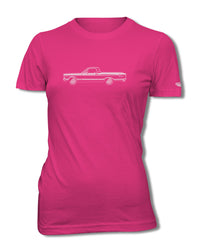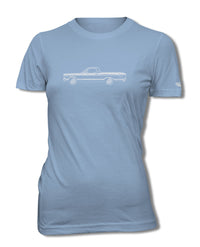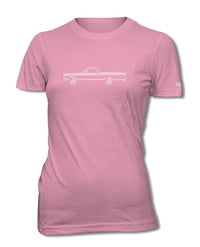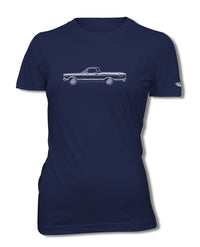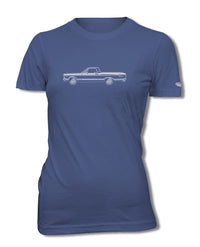 1967 Ford Ranchero T-Shirt - Women - Side View
Product Code:
1967_FORD_RANCH_WM_S_BLK
1967 Ford Ranchero T-Shirt for Women
The 1967 Ranchero, based on the post-'66 Falcon/Fairlane chassis, used the basic 1966 Ranchero body with Fairlane trim, front sheet metal, and interior treatments instead of Falcon. It was marketed as the Fairlane Ranchero. This was a well-received and unique one-year vehicle, with clean, straight lines, dual stacked headlamps, and plenty of power; the Ranchero had entered the muscle car arena in 1967. Engine options started with a straight-6 and went up to a 390 cu in FE-series V8 giving 315 bhp and backed by an optional C6 automatic, the new-for-1966 heavy duty variant of the C4 in addition to the tried and true Toploader 4-speed manual gearbox. The '67 also had the largest expansion of trim levels since the vehicle's introduction 10 years prior. Supplementing the base model were the new Ranchero 500 and 500/XL. In spite of being added to the Fairlane family for 1967, Ford's top performance options for the Fairlane the GT and the GT-A did not apply to the Ranchero and is a common misconception that they were available. Increased awareness of passenger safety resulted in such innovations as safety-padded windshield pillars and an unusual 1967-only safety pad which protruded from the center of the three-spoked steering wheel to a point just beyond the rim of the steering wheel. It was designed to minimize abdominal injuries in the event of a collision.
A game of subtle lights and shadows reveal the magnificent curves of the body of the 1967 Ford Ranchero, a Legendary American muscle car, coupe utility. Detailed and harmonious, the artistic illustration grabs the essence of one of the most influential vehicles of the 20th century. Printed in front of the tee, it contrasts magnificently with any chosen colors of the t-shirt. Refine, stylish, and elegant this is the perfect wear for any occasion and to show your passion. The 1967 Ford Ranchero is a true Legend that lives forever as you proudly wear it on your Woman Short Sleeve T-Shirt.
The featured original artwork has been printed on a high-quality 4.5 oz 100% pre-shrunk combed ringspun American cotton t-shirt. Its soft feel and fashion fit make it so comfortable to wear.
Features: Seamless collarette, Taped shoulder-to-shoulder, Double-needle stitching on sleeves and bottom hem, Side seamed, Classic semi-contoured silhouette, Tear off label
It is available in Black, Chocolate, City Green, Hot Pink, Light Blue, Light Pink, Navy & Steel Blue
in sizes S - M - L - XL - 2XL
This product is designed, printed & packed in the USA.
* Ford or any other marks are registered trademarks. Our products are not approved by any of these manufacturers and trademarks. We do not imply any association with these manufacturers and references are based on historical information in the public domain.